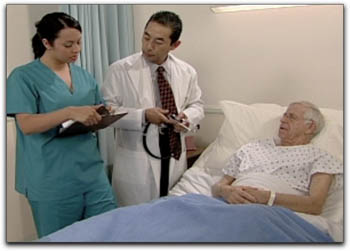 A plan of care should then be developed for each individual client based on his or her need and risk factors. Interventions may consist of:
Management of acute or chronic illnesses or disabilities
Adjustment of medication dosages
Balance and strength training
Exercise
Scheduled toileting
In addition, moving a patient's room near the nursing station and hourly checks on the patient may be considered, especially for those who have a high risk of falling.
Use of products to reduce injury may also be employed. For example, low bed frames may replace standard beds and floor mats can be placed around it. Bathroom floors should have non-slip mats near the shower and tub. Beds and chairs should have alarms to notify staff if the client tries to get up alone.
Mobility aids such as canes or walkers can be utilized for individuals who need some assistance with ambulation. Their shoes should be the correct size and the soles should be skid-proof.
For those people with a high risk of falling, hip pads should be worn.
If all of these interventions prove fruitless, a Posey vest may be needed. It is critical to remember, however, that this is considered a form of physical restraint and that a physician must order its use. In addition, staff must follow their facility's policies and procedures associated with the use of this product.